MED-ED Accreditation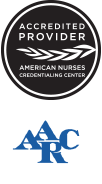 MED-ED is honored to be recognized as an approved provider of nursing education by the following governing boards:

MED-ED, Inc. is accredited as a provider of continuing nursing education by the American Nurses Credentialing Center's Commission on Accreditation (ANCC).

MED-ED, Inc. is approved by the American Association for Respiratory Care (AARC) and American Association of Nurse Anesthetists (AANA).

MED-ED, Inc. is an approved provider by the following State Boards of Nursing: Florida/FBN 50-1286 and California #CEP10453.
If your profession is not listed, we suggest contacting your board to determine your continuing education requirements and ask about reciprocal approval. Many boards will approve our programs based on the accreditation of the boards listed here.